7 Days, Mt Kilimanjaro - Rongai Route
The Kilimanjaro Rongai Route approaches the mountain from the north not far from the Kenyan border. The area retains a sense of untouched wilderness lost on the crowded Marangu and Machame trails.
This route is the easiest of all the routes, it has a relatively gentle gradient and short daily stages as it winds its way from the starting point just south of the Kenya-Tanzania border through attractive farmland and delightful forest to several other climate zones, adding considerably to the interest of the trek.
There are magnificent views over the Amboseli Plains and genuine possibilities for wildlife viewing. An extra day is added to the standard 5-day itinerary to hike to the beautiful Mawenzi Tarn beneath the towering spires of Mawenzi; this also ensures maximum acclimatization for the climb to the summit.
The final ascent is arduous and made in darkness starting around midnight but the reward is a spectacular dawn view of the glaciers and ice cliffs of the summit, and across the East African plains far below. Descending through lush forest, there is a final day to relax and recover before the flight home.
Kilimanjaro Rongai Route is much drier than the other routes and you might even encounter an elephant on the way. Accommodation in tents.
Please Note: That we only organise private treks, there will be only yourself and your travel partner(s) on the tour!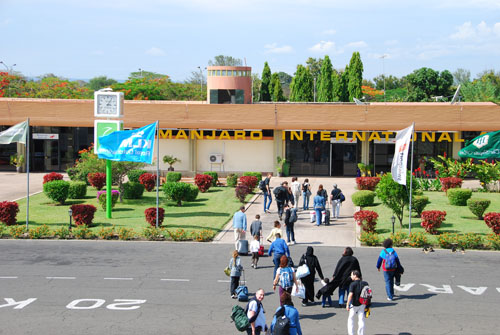 You will be met at the International Airport by your Driver/Guide and our representative. We will take you to the Mount Meru Game Lodge (or any other suitable hotel depending on your arrival time). Our Kilimanjaro Expert will come to meet you and to provide you with a briefing on your climb.
Dinner and Overnight at Mount Meru Game Lodge.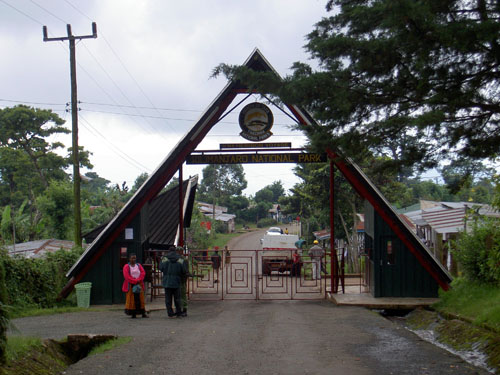 Day 2
Kilimanjaro Rongai Route
Hike up through the Rongai Forest – Approx. 2625 m
In the morning we pick you from your hotel in Arusha or Moshi and drive to the town of Nalemoru on the lower slopes of Kilimanjaro and the trail head five miles outside of town. From the Park entrance you start the climb passing through pine forest and a short stretch of mountainous rainforest until we reach the heather and moorlands. It is about a 4-5 hour walk to Sekimba camp at approx 2625m but we advise people to go very slowly. The forest teems with bird life and colobus and other monkeys may be seen. We should arrive late afternoon so the rest of the day will be used to relax and recheck your equipment.
Overnight at Sekimba campsite. All meals included.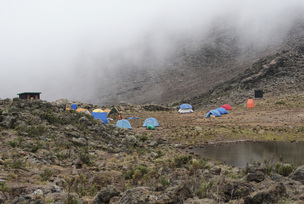 Day 3
First Camp to Kikelewa Moorland (3630 m)
Continue through the forest (on this side is no such forest belt), eventually encountering the moorlands just below a large lava overhang known as Second Cave . Here we have lunch, then traverse the open moorlands toward the spectacular peak of Mawenzi, Kilimanjaro's second major peak rising. Our second camp is at Kikelewa, (relative) shortly before reaching the saddle that connects Mawenzi to Kibo and Uhuru peaks. (5-6 hours hiking.)
Overnight at a campsite. All meals included.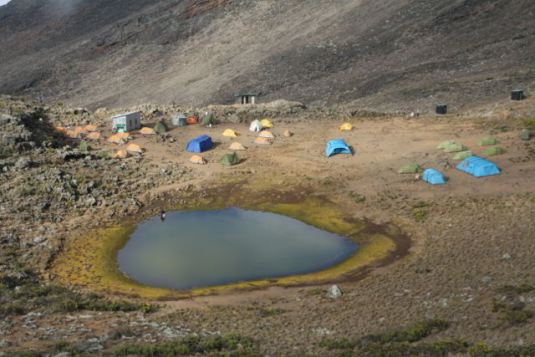 Rising early you climb steadily to craggy jugged peaks of Mawenzi.(one of the volcanic peaks) camp beneath Mawenzi at approx 4,300m. Some climbers take an alternative route away from Mawenzi and camp on the north side of the saddle (Mawenzi Tarn Hut is in the north).
Overnight at a campsite. All meals included.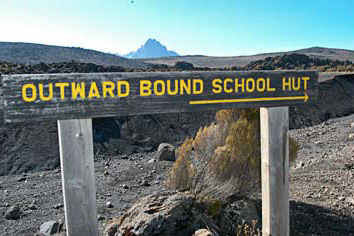 (School Hut or preferably Kibo Hut)
Trek to the Outward Bound Hut (School Hut or preferably Kibo Hut) at 4,715m between the peaks of Kibo and Mawenzi. Mountain vistas are fabulous as we emerge onto the saddle between glacier-covered Kibo and rock-crowned Mawenzi (these mountain views alone are worth the effort of the trek!). We'll arrive by lunchtime, and have the afternoon to organize and rest up for the summit attempt. We'll turn in early (since we'll be arising before midnight).
Overnight at a campsite. All meals included.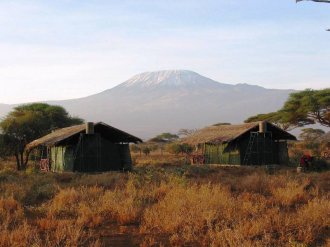 Day 6
Kibo Camp to Gilman's Point to Uhuru Peak – Horombo Hut
This is the hardest day of the climb and an early start before midnight or one, where it is dark cold and where you use your head torch for the first few hours. You will pass (rest and have coffee at) Hans Meyers cave after about 3hours climbing. Depending on weather conditions the temperature can be as low as -25 c. At dawn you should reach Gilman's point and usually see a spectacular sunrise as you stand above the clouds. From here if you have enough energy left a further 1 and a half hours walk before you are standing on the highest part of the African continent- Uhuru Peak. A quick photo session and then you descend down to Kibo and then on to Horombo at 3700m – now a well earned dinner (beer!! – no permanent kiosk or provided) and good sleep. (11-12 hours hiking).
Overnight at a campsite or Horombo Hut. All meals included.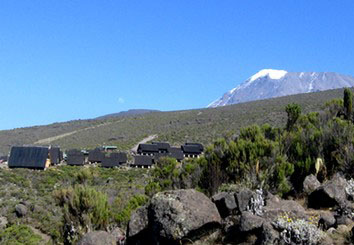 Day 7
Horombo to Park Gate
Descending across the moorland and into the forest to Mandara hut, where a meal is served, a walk of about 3 or 4 hours and the last stretch of 2 hours trough the rain forest to Marangu Gate. After bidding our farewells to our guide and porters, we'll take you to Arusha or Moshi for extension.
End or Extension