10 days, 9 nights – Northern Tanzania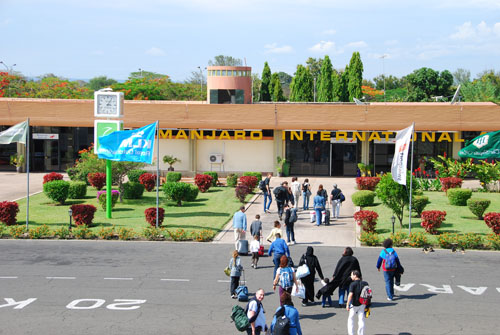 You will be met at the International Airport of Kilimanjaro by your driver/guide and our representative We will take you to the Meru View Lodge, charming lodge situated right at the slopes of Mt. Meru. Children will enjoy the casual atmosphere and can roam around in the park style garden. Alternative accommodation is at Kiboko Lodge, right at the edge of Arusha National Park with wonderful views towards Mount Meru. Our Safari manager will come to meet you and to provide you with a safari briefing.
Dinner included.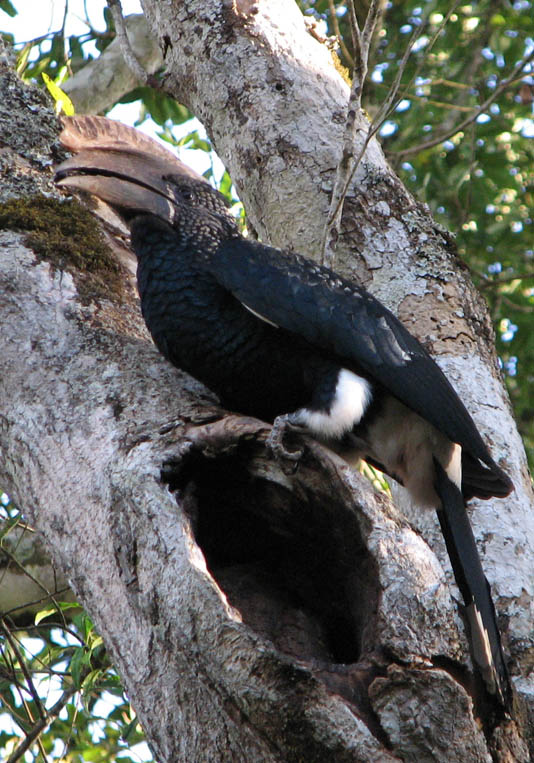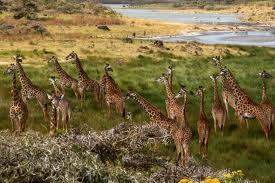 Day 2
Cultural Encounters in Arusha
Today you will take an excursion in the nearby surroundings of your lodge, meaning you can relax a little, sleep in a bit if you want, and stay in your lodge without having to pack up again after just one night.
You have the choice between three different options. Please choose the one suiting the needs of your family best:
Arusha National Park
After breakfast drive to Arusha National Park, once the site of the action packed Hollywood movie Hatari, starring John Wayne and Hardy Kruger. You pass by herds of zebra, buffalo, and giraffe on the savannah. Enjoy a picnic lunch at Momella Lake, famous for huge flocks of colourful flamingos and its views at majestic Mt. Kilimanjaro. You continue in the afternoon with a game drive around the different habitats in this truly beautiful national park. There are black and white colobus monkeys (unique to this location northern Tanzania), Sykes's and vervet monkeys, shy forest duikers, elusive leopards and substantial herds of antelope.
If you wish, you can hike at the slopes of Mt Meru in dense forest or at the Crater rim while an armed ranger escorts you to protect you from some of the larger animals.
Alternatively, you could do some cultural visits instead of visiting Arusha National Park. We offer as follows:
Mulala
Full day excursion to Mulala, a picturesque village located of the slopes of Mt Meru, to visit the people living here and to get a glimpse of the daily life of Meru farmers growing vegetables and crops. Together with a local guide you walk from Mama Anna's farm, crisscrossing coffee plantations and banana farms to the top of Lemeka Hill, and back down to the Marisha River, which is home of colorful birds and playful monkey. The village women will prepare some simple but tasty lunch for you before you return to Arusha.
Nkoaranga Village
Full day excursion to the small village of Nkoaranga. This is home to a local fair-trade coffee growers' cooperative, made up of a group of small-farm coffee growers working together to build a sustainable, naturally grown, fair trade coffee business. Visit the coffee plantations and see the different steps of coffee growing. Learn about how coffee beans are collected, processed, roasted, ground and carefully packed. All proceeds from coffee sales return to the local farmers for reinvestment in the project, and to build their burgeoning organic farming project – with the first organic bean harvest scheduled within the next two years. Lunch is taken in the village before you return to Arusha. A walk through the village and at the local school or an orphanage is also included if desired.
2nd Overnight at Meru View Lodge or Kiboko Lodge in Arusha. All meals included.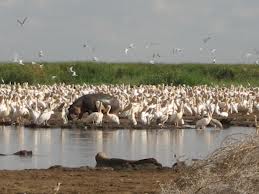 After breakfast we depart for Lake Manyara (driving time some 2.5 – 3 hours). Nestling at the base of the Great Rift Valley escarpment, the park is recognized for its incredible beauty. You can see many game animals such as Buffalo, Elephant, Giraffe, Impala, hippo and others. After spending most of the day in the car you might enjoy a leisurely stroll along Kirurumu River which has to be crossed on large rocks a couple of times. This is a great chance to get out your vehicle and explore this beautiful area on foot. Note that wet muddy feet cannot entirely be avoided…!
You will make the short journey towards Ngorongoro directly after your day of game driving at Lake Manyara, meaning you can make it down to the crater floor early morning the following day. Spend the evening at Country Lodge, an rustic lodge at the outskirts of Ngorongoro Conservation Area with comfortable rooms in a large tropical garden around an inviting swimming pool.
All meals included.
Transfer time without game viewing 3 hours.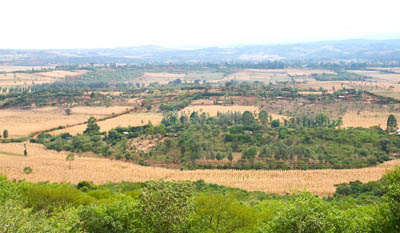 Today you spend a day around Karatu and visit the lively market, you go on a guided walk either to the nearby coffee plantations or if you want it a bit more sportive to Ganeko Hill in some distance. If you are lucky one of the weekly colorful Maasai Markets is held, and you can visit an old descendent from the ancient Iraqw Tribe who will be happy to introduce you to his culture and history.
2nd overnight at Country Lodge (or alternative at Bashay Village).
All meals included.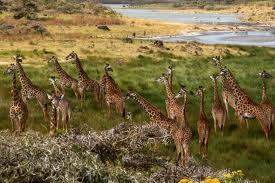 Day 5
Ngorongoro – Serengeti
After breakfast you start on your way to Serengeti National Park (driving time some 4 hours, but with plenty to see on the way!) En route you will see grazing zebras, antelopes and giraffes and sometimes some buffalos hiding in the bush. You will visit a MaasaiBoma (traditional village) where some Maasai Warriors will welcome you, show you around and explain their traditional life. They will also show you their famous jumping dance and invite you to join in if you like! You can also see inside houses, meet children, ask questions and take photos!
After stopping for your picnic lunch on a kopje (rock outcropping) in Serengeti you will continue further into the park and go on a game drive in the afternoon. Depending on the time of year and the migration of the herds you can expect to see wildebeest, lions, elephants, giraffes, zebras, monkeys, baboons, hippos, rhinos, antelopes and many birds and other species.
Tonight and the following night you spend in a comfortable tented camp at the edge of the famous Serengeti, with views over the endless savannah with some animals and typically African acacia trees. Enjoy some relaxing hours at the camp fire under open sky after dinner, chatting with other guests and the charismatic security guards.
Transfer time without game viewing 4 hours.
Overnight at Ikoma Tented Camp at Ikoma, Northern Serengeti. All meals included.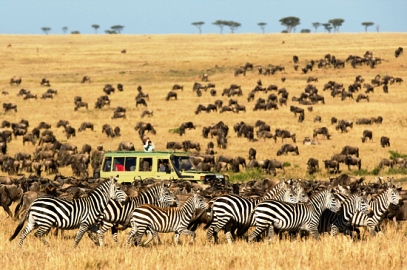 Spend a leisurely day on game drives around Serengeti. Return to your lodge for a relaxed lunch under the shade of an old acacia tree.
In the afternoon you can go out again on game drives or undertake a nature walk around the camp with some resident tribesmen. They are happy to share their knowledge of plants and animals surrounding them and introduce you into their use of traditional bow and arrow for hunting.
2nd Overnight at Ikoma Tented Camp at Ikoma, Northern Serengeti
All meals included.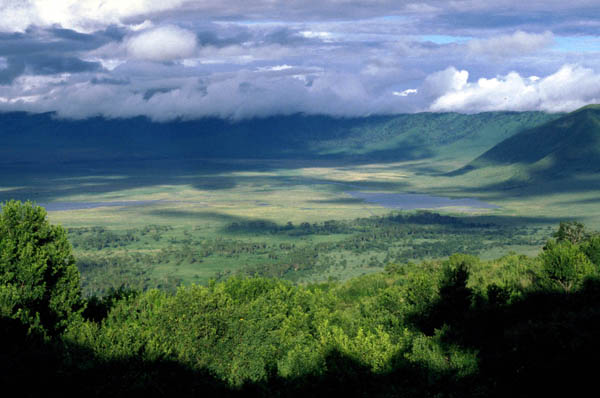 Day 7
Serengeti – Ngorongoro
Early start today for an early morning game drive to see also nocturnal predators returning from hunting and animals waking up in early morning light. You can take breakfast boxes with you and have a bush breakfast when the sun is up before you visit the interesting documentation center about Serengeti at Seronera . After breakfast will proceed to Ngorongoro Conservation Area and go for an afternoon a Nature Walk (depending on weather conditions) at the Northern Crater Rim of NgorongoroCrater inhabited by buffaloes, elephants, baboons, monkeys and different species of birds. Escorted by a ranger or Maasai Guide you follow animal paths through dense.
Transfer time without game viewing 3- 3.5 hours.
Overnight at Ngorongoro Rhino Lodge. All meals included.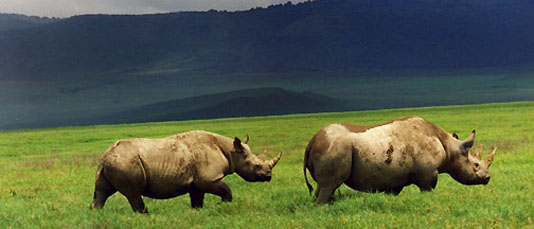 After breakfast you will explore the famous Ngorongoro Crater during a wonderful game drive (with a picnic lunch) inside the Ngorongoro Crater often described as one of the wonders of the world. It is the world's largest intact volcanic caldera and a natural sanctuary for some of Africa's densest animal populations. It is one of the few places where the rare black rhino can be observed in their natural setting. As very few animals migrate in and out of the crater with its 2000 ft. high walls, you can expect to see lions, elephants, zebras, hippos, flamingos, jackals, rhinos, antelopes, many birds and other species. With a bit of luck the 'Big Five' can be spotted during one game drive only.
2nd overnight at Ngorongoro Rhino Lodge.
All meals included.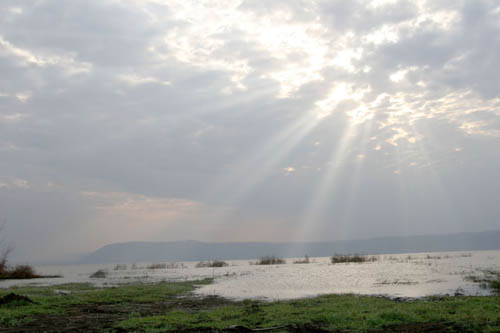 From Ngorongoro you proceed to Lake Eyasi home to the hunter-gathers ethnic group of the Hadzabe Bushmen bearing similar characteristics to those of Bushmen at Southern Africa. The small people of this indigenous tribe are probably the last living in true harmony with nature and have a wealth of Fauna and Flora knowledge to share with us. Around Lake Eyasi you will also visit the remotely living Datoga Tribe famous for their colorful leather dresses. The day is filled with visits and cultural encounters around Lake Eyasi until you enjoy a beautiful sunset at the banks of Lake Eyasi.
Transfer time without game viewing 2 hours
Overnight at Tindiga or KisimaNgedaTented Camp at Lake Eyasi. All meals included.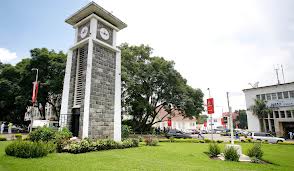 Day 10
Lake Eyasi – Arusha – Kilimanjaro – Departure
In the morning you go out with the Hadzabe Bushmen for a morning hunt or walk (depending on your schedule either at 06:30 or later around 09:00 hrs). After completing your visit with the Hadzabe and Datoga you return to Arusha and onwards to Kilimanjaro for departure, where your family safari ends. A day room will be arranged for your comfort. Transfer time without game viewing 4 hours.
Breakfast and lunch included.