10 days, 9 nights – Southern Tanzania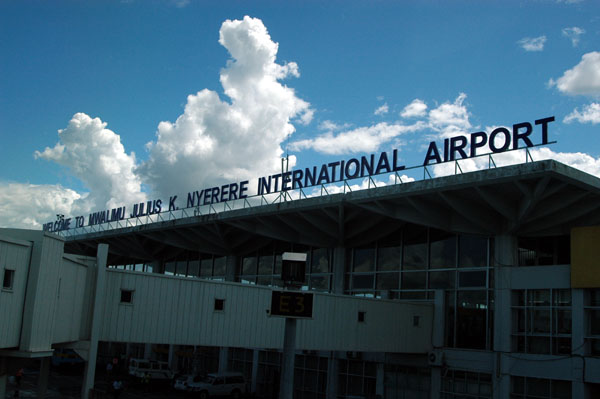 You will be met at the International Airport of Dar Es Salaam by your Driver/Guide and our representative. We will take you to Holiday Inn Hotel for overnight.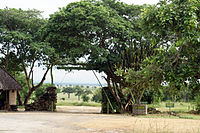 Day 2
Dar es Salaam – Mikumi
After breakfast you start your southern Tanzania journey and leave for Mikumi National park (transfer some 4-5 hours from Dar Es Salaam ), being nestled between the Uruguru Mountains to the East and the Rift Valley Escarpments to the Southwest. As it is close to the Selous ecosystem and therefore part of it, it benefits from the highest game density of the entire conservation area. The Mikumi National Park obtains a good impression of the African animal world and is suitable very well for a short visit. After arrival at Mikumi National Park you go on game drives around the park. Overnight at Vuma Hill Tented Camp or StanleysKopies inside the Park. All meals included.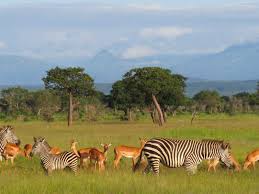 Day 3
Mikumi National Park
Full day of game drives around Mikumi. There is a rich variety bird species as well as large numbers of giraffes, buffaloes and elephants and close to the water holes also lions, leopards and hippos. Furthermore you can see zebras, lions, wild dogs, pythons, hartebeest, wildebeest, elephants, impala, warthog, eland and other antelopes. Several observation towers enable you to overview the park in its entirety. Mikumi National Park is mostly miombo woodland with gently rolling hills. You also go on a walking safari to the African Bush with an armed ranger.
Overnight Vuma Hill Tented Camp or StanleysKopies inside the Park. All meals included.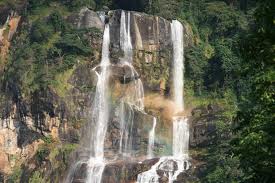 Day 4
Udzungwa Mountain National Park
Departure for Udzungwa Mountain National Park. Afternoon arrival at the park, half day of hiking and bird-watching in the pristine rain forest: hiking towards the Sanje waterfalls for spectacular views of the wide Kilombero Valley. Pls note that the hike can be quite strenous. If you prefer you can also walk towards a Rubber Plantation and learn about the process to produce natural latex.
Overnight at Hondo HondoUdzungwa Forest Camp (Accommodation in a en suite luxury tent). All meals included.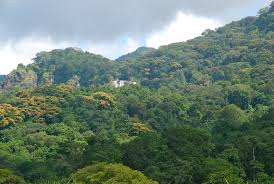 Day 5
Udzungwa Mountain National Park
Today your guide will take you to the Hidden Waterfall Trail taking you to Njokamoni Waterfall, right back into Hondo Hondo. It's a long, steep walk that climbs to over 1000m, so you should plan to leave early. It is necessary to take a ranger on this hike as there are large mammals deep in the forest. You will certainly see plenty of wildlife on this trail. Once you've climbed the sometimes steep trail to the ridge, you walk through the flat grassy bottoms of some beautiful hidden valleys (hence our name for the trail) often frequented by elephants. Overnight at Hondo HondoUdzungwa Forest Camp (Accommodation at en suite tents) All meals included
NB- this is a moderately tough hiking tour which takes some 7-8 hours for some 15 km. If you like a 'lighter' version your guide will take you across the road via the friendly local town of Mwaya towards a Rubber Plantation where you can see how local Latex is produced (this excursion can take some 4-5 hours).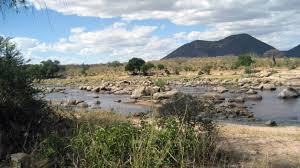 Day 6
Ruaha National Park
After breakfast, depart for Ruaha National Park (long drive of some 7.8 hours via Mikumi and Iringa). In the afternoon we reach the lodge constructed on and around a rocky kopje overlooking the Great Ruaha River. The Lodge provide comfortable accommodation and good food while blending into its surroundings to enable visitors to feel themselves a part of the wild. Both the dining "Banda" and the bar, in elevated position above the river combine comfort and coolness together with the most spectacular views.
Overnight at Ruaha River Lodge. All meals included.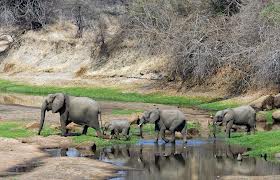 Day 7 & 8
Ruaha National Park
Two full day game drives at Ruaha National Park with picnic lunch. Ruaha, with an area of 10,300sq.km. Is the second largest park, and second largest elephant sanctuary in Tanzania. The great Ruaha River that flows along its entire eastern border, creating spectacular gorges and scenery, features a large number of hippos and crocodiles. The wide variety of animals include Greater and Lesser Kudu, roan and sable antelope. Bird life is rich, with over 370 species recorded.
2 x overnight at Ruaha River Lodge. All meals included.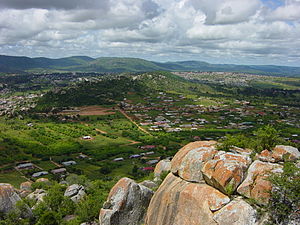 After a last morning game drive you depart for Iringa. En route you visit the Museum of Kalenga the former headquarter of the Wahehe and residents of their chief Mkwawa leading a fierce opposition against the German occupation during the colonial times. At Isimilia Stone Age Site you see old Stoneage Tools and wander through an amazing Canyon with picturesque limestone pillars. Reach your lodge in the outskirts of Iringa for dinner. Overnight at Kisolenza Farmhouse. All meals included.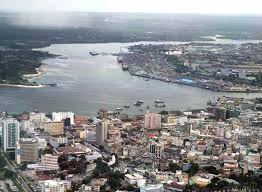 Day 10
Iringa-Dar Es Salaam
After breakfast you drive back to Dar Es Salaam (some 8 hours) with arrival in the late afternoon at the Airport or your hotel (or in time for the last flight to Zanzibar at 18:15 for extension ) Breakfast included This southern Tanzania itinerary can be extended with a nice relaxing stay at Zanzibar. Please ask for further information.