12 days, 11 nights – Kenya, Tanzania Safari Circuit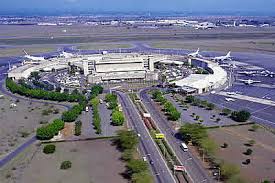 You will be met at the International Airport of Nairobi by your Driver/Guide and our representative and taken to your hotel, the traditional Stanley Hotel or Red Court Hotel.
Dinner is included.
NB: Arrival day Friday or Saturday. If you arrive any other day of the week, there is a supplement of 95 USD pP.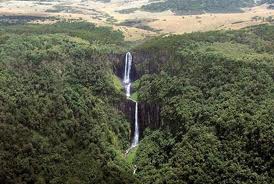 Day 2
Nairobi – Aberdare Mountains
Departure from Nairobi Hotel after breakfast and start your Kenya Tanzania Safari driving towards the Aberdares around noon. After a delicious lunch at Aberdare Country Club you will change into the lodge vehicle and be taken to your lodge. Accommodation will be at the unique The Ark, a tree-top style stilted lodge is set in thick woodland in the heart of the Aberdare National Park overlooking a floodlit waterhole and a salt lick which attracts a host of wildlife. Elephants, rhinos, leopards and bush bucks are frequently seen. Numerous Balconies and lounges provide superb game viewing and excellent photographic opportunities. The afternoon is usually spent with game viewing from the lodge. Additional activities like walks and game drives arranged by the lodge can be joined (against extra payment – not included in the package).
Overnight at The Ark. All meals included.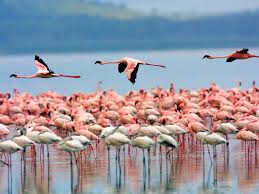 Day 3
Aberdare Mountains – Lake Nakuru
After breakfast you proceed to Lake Nakuru, one of the Rift Valley soda lakes and best known for its thousands, sometimes millions of flamingos nesting along the shores. The surface of the shallow lake is often hardly recognizable due to the continually shifting mass of pink. The number of flamingos on the lake varies with water and food conditions and the best vantage point is from Baboon Rocks. Also of interest, an area of 188 km around the lake fenced off as a sanctuary to protect Rothchild giraffe and black rhinos.
Overnight at the Lion Hill Lodge at Lake Nakuru, beautifully located close to the entrance with a view over Lake Nakuru. All meals included.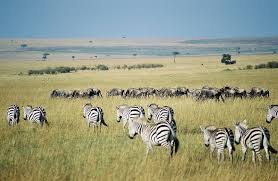 Day 4
Lake Nakuru – Masai Mara
Early morning game drive if you wish. After breakfast you proceed make your way to Masai Mara with viewing various games on the way, birds, herds of Antelopes, Zebra, giraffe, Elephants, gazelle, etc. Lunch will be taken at 'Elsamere Conservation, former home to George and Joy Adamson famous for their work with lions and the book and movie 'Born Free'
At Masai Mara you go for an afternoon game drive with high chances of seeing the' Big five' and many other wild animals set to retire for the day.
Overnight at the luxurious Mara Serena Safari Lodge. All meals included.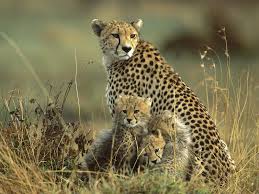 Early morning game drive at Masai Mara and return to the Camp for breakfast. Proceed to Isebania for Border crossing into Tanzania. After visa and border procedures we drive along the lake shore to Musoma one of the major towns at Lake Victoria In Musoma we embark a traditional fishing Dhow Boat (journey approx 45 min) which will take us to an Island in Lake Victoria and to a private Island retreat, the Lukuba Island Lodge. Rest of the day at leisure and possibility to swim in the warm water of Lake Victoria.
All meals included.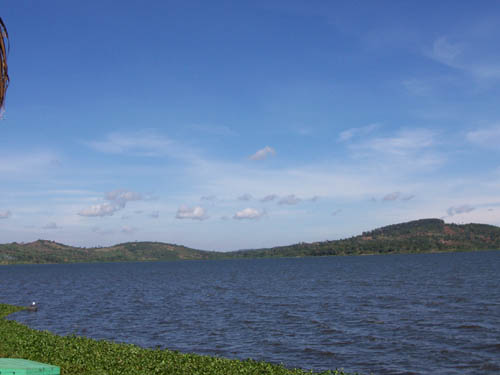 Day 6
Masai Mara – Isebania – Lake Victoria
Full day of game drive at Maasai Mara.. Depending on the game drive nature you will have a great moment to visit the famous Mara River whereby different types of animals mingle to drink water, Picnic lunch in the bush. You will have either at Masai Mara or Serengeti the chance to experience the 'Great Migration' and some 1.5 millions of wildebeest and zebras on the move.
Overnight at Mara Serena Safari Lodge.
All meals included.
If you wish to rest a bit 'in between' the national park visits and safari activities we advise to extend your stay at the beautiful Lukuba Island Lodge. You can rest at the snow white sandy beach, sunbath and read, take a stroll over the rocky island, go by a traditional dhow around the neigh Bouring islands for bird and nile monitor watching, fishing etc.
Additonal days at LukubaIsland can be booked with a supplement.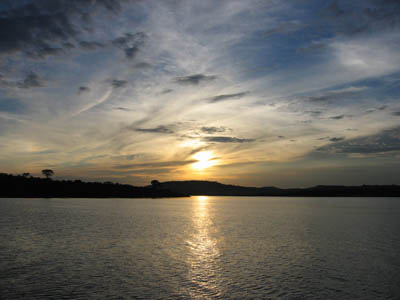 Day 7
Lake Victoria – Serengeti
In the morning we go out for a boat trip on Lake Victoria by local fishermen. Afterwards you proceed towards Ndabaka Gate and enter Serengeti through the Western Corridor. You pass through green Savannah with Elephants and Giraffes roaming around through a stretch of land which is rarely visited by travelers to reach Central Serengeti. The name Serengeti comes from the Maasai word "Siringet" referring to an endless plain which you will experience on your way to your camp.
Overnight at Kati kati Tented Camp Serengeti at Central Serengeti.
All meals included.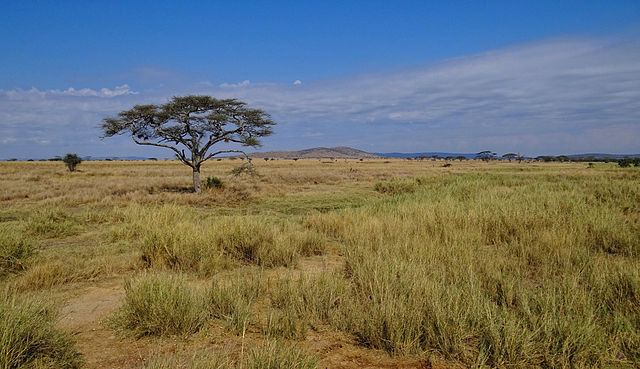 A full day of game drives around Serengeti. You can expect to see wildebeest, lions, elephants, giraffes, zebras, monkeys, baboons, hippos, rhinos, antelopes and many birds and other species. We are very flexible with choosing our route will be on the track with the migration on its way to Masai Mara.
Overnight at Kati Kati Tented Camp at Serengeti.
All meals included.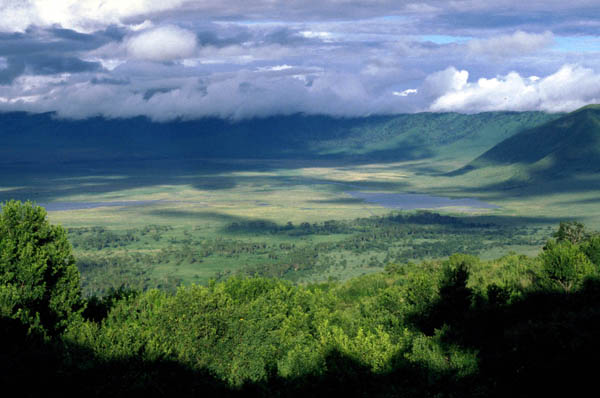 Day 9
Serengeti – Ngorongoro
Early morning game drive after tea /coffee which is the best time to see the animals as they get out from their hide for the morning preys or return from their night hunt. After late breakfast you leave for Ngorongoro Conservation Area. Arrival toNgorongoro for lunch. In the afternoon you go for a Nature Walk at the Northern Crater Rim inhabited by buffaloes, elephants and different species of monkeys escorted by a local guide.
Over-night atNgorongoroSopa Lodge providing a wonderful view towards the crater.
All meals included.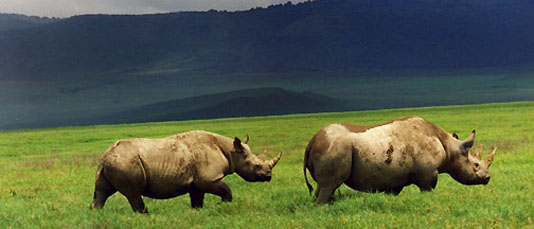 After breakfast you will descend into the crater for a wonderful game drive (with a picnic lunch). The Ngorongoro Crater is a World Heritage Site holding a permanent population of more than 30,000 animals. As only very few of those migrate in and out of the crater with its 2000 ft. high walls, you can expect to see lions, elephants, zebras, hippos, flamingos, jackals, antelopes, many birds and other species. The Crater is also home to the rare black rhino almost extinct in Tanzania. With a bit of luck you will see the 'Big Five' during one game drive.
Over-night atNgorongoro Farmhouse or Tloma Lodge.
All meals included.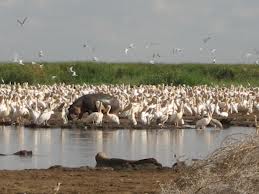 Day 11
Ngorongoro – Lake Manyara
In the morning you drive to Lake Manyara National Park. Nestling at the base of the Great Rift Valley Escarpment, the park is recognized for its incredible beauty with lush vegetation and tropical forests of giant fig and mahogany trees. Lots of elephants, giraffe, buffalo, zebra and a variety of antelope inhabit the park as well as a variety of monkeys and a large population of hippos. If you are lucky you may see the Manyara lions, well known for their tree climbing habits, lazily resting on the branches of an "Acacia tortilis" tree. The bird life is also abundant, with flamingos, pelicans, hornbills and plenty of forest species.
Over-night at Serena Lodge or Escarpment Luxury Lodge over-looking Lake Manyara.
All meals included.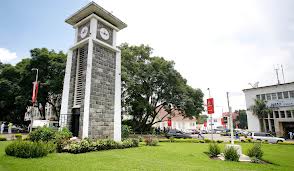 Day 12
Lake Manyara – Arusha – Nairobi
End of your Kenya Tanzania Safari. Time at leisure in the morning until your departure transfer to Kilimanjaro Airport for departure or to Arusha Airport for your flight to Zanzibar for beach extension.
Breakfast included.
This itinerary can be extended with a nice relaxing stay at Zanzibar. Please ask for further information.
NB – transport to Nairobi. The options are
* Connection flights Kilimanjaro Airport-Nairobi.
* private road transfer Arusha-Nairobi Town or Nairobi Airport (400 USD per vehicle up to 6 persons)
* scheduled shuttle bus Arusha Town- Nairobi Town or Nairobi Airport; departure at 14:00 hrs – driving time some 5-6 hours (35 USD per person)